Posted on: Friday, February 28th, 2014


Announcing the 2013 SVA Film & Media Festival! Please download the 2013 Program here: 
2013-svaff-program
Posted on: Tuesday, November 19th, 2013


We seek submissions for Artless Photographs, an exhibition to be held during October 2012 in Cincinnati as part of the Fotofocus Biennial (http://www.fotofocuscincinnati.org/).
Artless Photographs examines documentary photographs taken in a range of institutional contexts that record exacting details about individual bodies and identities while also generating diagnostic and predictive typologies. Taking the viewer from events as distinct as model castings in New York's fashion industry to exhumations in post-conflict Spain, the show compels viewers to think critically about the power and utter mundanity of photography and the practices that produce them. Arguing that these seemingly "artless photographs" are anything but straight-forward representations, the exhibition explores how the standardization and routinization of these images' production simultaneously de-emphasizes the role of the photographer while also elevating the expertise required to interpret and read the small details and auratic potential of these images. Exhibiting these collections alongside audio, visual, and textual documentation of the processes of their production, the show will juxtapose what appears to be the placelessness of these images with their embedded institutional ecologies to explore the multiple temporalities and mediations of identity.
We are looking for research-based submissions of both "artless photographs" and documentation of their production processes.  This may include ethnographic vignettes, audio or video recordings, and/or photographs.
We are particularly interested in medical and scientific imaging (CT scans, MRI, histology, x-rays, forensic photography), government and institutional identification imaging (driver's licenses, passport photos, criminal booking photographs, biometric measurements), and commercial and media images (stock photography, photojournalism), but are open to submissions beyond these areas, as well.
The deadline for submissions is July 15, 2012.
Each submission should include a pdf cover sheet with the following information:
1)     The author/artist/anthropologist's name, institutional affiliation, and contact information;
2)     A brief 250-word statement explaining the collected materials and their relationship to the show;
3)     An annotated list of submission materials (photographs, audio files, vignettes, video, etc.) including file names and sizes and whether the submission is exhaustive or representative of a larger body of work;
4)     A statement affirming that the author/artist/anthropologist has the right to exhibit the included work.
All video footage, audio recordings, photographic images, and ethnographic vignettes should be submitted as files or links (dropbox) with this cover sheet via email to artless.fotofocus@gmail.com. If your materials do not fit into a single email, please send them via dropbox and include the corresponding link to the public file.  Please note that at this initial stage of the process, we do not need high-resolution images. 
Please contact the show curators, Stephanie Sadre-Orafai, sadreose@ucmail.uc.edu, or Lee Douglas, lee.douglas@nyu.edu, with questions or for more information.
Posted on: Tuesday, June 12th, 2012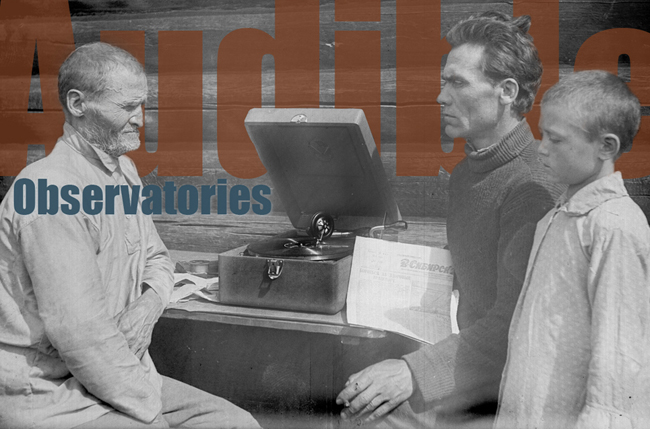 Ethnographic Terminalia seeks submissions for Audible Observatories, an exhibition to be held in San Francisco in November 2012. Artist-researchers, collaborators, anthropologists and other artistically inclined scholars are encouraged to submit their proposals prior to July 15, 2012.
Audible Observatories makes a playful connection between research-based art and place-bound exhibition in order to animate a curatorial vision that foregrounds audio-centric works within a broader rubric of site-specificity. We conceptualize the audible observatory as either a mobile or a stationary site of perception that is sensible to others just as it is a place from which sensing the world happens. Audible observatories are points of sensory convergence. They are nodes where worlds perceived through the senses intersect and begin the labour of transforming independent events into knowable and meaningful claims. They speak and they are spoken to.
Audible Observatories will be a distributed public event in San Francisco with an amalgam of location specific points and zones of exhibition. We are looking for research-based audio focused works to exhibit. These might include digital media, image, and sound files, websites and other interactive media, video works where audio figures prominently. Sculptural and other works will also be considered. In some cases we may be able to support installation. As in past shows, we will work with our exhibitors (if necessary) to develop installations and short statements about their work which point to larger interpretive frameworks.
This project ties in with and is supported by the meetings of the American Anthropological Association and the Society for Visual Anthropology. A round table discussion featuring Steve Feld, John Wynne, Angus Carlyle, and Rupert Cox has been organized and will be taking place during the course of this event. We also expect to be exhibiting work by these artists.
Ethnographic Terminalia is an initiative designed to celebrate borders without necessarily exalting them. Now in its fourth year of exhibition, it is meant to be a playful engagement with reflexivity and positionality; it seeks to ask what lies beyond and what lies within disciplinary territories. Ethnographic Terminalia is an exploration of what means to exhibit anthropology - particularly in some of its less traditional forms - in proximity to and conversation with contemporary art practices.
Go to the Call for Submissions Form
The terminus is the end, the boundary, and the border.
It is also a beginning, its own place, a site of experience and encounter.
Contact: ethnographicterminalia@gmail.com
http://www.ethnographicterminalia.org

Posted on: Thursday, June 7th, 2012


Festival of Visual Anthropology ASPEKTY in Poland is pleased to announce submission for the 5th edition of festival. Submissions are free and open for every documentary films from any field of ethnographic, anthropological, analytical approach to cultures and societies. Festival has audience competition program. Submitted films must have been completed after year 2008
Entries Deadline: 1st July , 2012; Films Delivery Deadline: 31st July, 2012;
5th Festival of Visual Anthropology ASPEKTY 2012 Torun, 22nd - 25th November 2012
Ethnographic Museum in Torun, Poland
ASPEKTY is a yearly anthropological film festival, which aims in exploring various areas of culture. The principle of the festival is to discover and present various relations, phenomena, interactions and mechanisms within cultures For more information and submission forms, rules please visit http://aspektyfestival.pl/en or contact us: festival (AT) aspektyfestival.pl
Posted on: Saturday, March 10th, 2012


Forbidden No More: The New China in Ethnographic Film festival and 
conference will take place at Haverford College on February 24 & 25, 2012, 
focusing on new ethnographic films about contemporary China.  Across two 
days, FORBIDDEN NO MORE presents a series of films and conversations 
exploring the changing social landscape of China. Featuring works by 
ethnographer-filmmakers Tami Blumenfield, Jenny Chio, Kenneth Dean, Maris 
Gillette, Steve Harrell, Benjamin Gertsen, Tik-sang Liu, J.P. Sniadecki,
and  Angela Zito,  the festival considers contemporary China through a
myriad of  lenses‹rural-urban relations, popular religion, gender norms and
family constitution, economic privatization, ethnic minorities, tourism,
political transformation, and differences between China's coast and
hinterland.
For a schedule of events, directions to Haverford, and filmmakers¹ bios,
visit:  http://www.haverford.edu/forbiddennomore/
Posted on: Friday, February 10th, 2012


ETNOFILm - an international festival of ethnographic film organized by the Ethnographic Museum of Istria is now accepting submissions for the official section of the programme. Applications for the 4th edition of the festival are open to documentary films employing innovative approaches in depicting cultural phenomena and the ethnography of the everyday. The festival will take place from 3-5 May 2012 in Rovinj, Croatia. Apart from live discussions with guest authors, the audience will be able to enjoy a visual anthropology workshop, lectures on recent issues in visual-anthropology, as well as an exhibition and a concert as part of the side programme.
The deadline for all submissions is 20 November 2011.
Download the application form from
http://etnofilm.com/Prijava.aspx
Posted on: Thursday, October 27th, 2011


Posted on: Tuesday, October 25th, 2011


The Society for Visual Anthropology presents the Film & Media Festival in Montréal for 2011.  You can download our preliminary program below.
Posted on: Saturday, September 3rd, 2011


field, studio, lab
Submission deadline: 24 June 2011 @ 5pm PST.
www.ethnographicterminalia.org
ethnographicterminalia@gmail.com
The terminus is the end, the boundary, and the border; of course the terminus is also a beginning as well as its own place, its own site of experience and encounter.
Ethnographic Terminalia is an initiative that brings artists and anthropologists together to engage emerging research through installation and exhibition. As a platform from which divergent modes and methodologies of inquiry are articulated, Ethnographic Terminalia asks what lies within and beyond disciplinary territories, and how those boundaries shape the representation of cultural practice. Organized as a para-site to the annual Meetings of the American Anthropological Association, the gallery show will take place in Montréal, Canada, at Eastern Bloc Centre for New Media and Interdisciplinary Art (14-20 November 2011). Now in its third year, Ethnographic Terminalia represents a diversity of material, conceptual, and creative engagements with art and anthropology, capturing a multiplicity of mediums where anthropology and art intersect. These include: sound, drawing, sculpture, photography, printmaking, video, film, internet and multi-media, and engage both gallery spaces and site-specific locations.
Panamanian artist Humberto Vélez has accepted our invitation to anchor the 2011 exhibition with a documentation of his collaborative work, The Awakening. The Awakening activates questions at the heart of collaboration, ethnographic methods of investigation, and aesthetic production emerging from his "Aesthetics of Collaboration" project developed with curator Emelie Chhangur at the Art Gallery of York University, the Mississauga New Credit First Nations, and Monkey Vault Gym Parkour artists in Toronto, Canada. In Ethnographic Terminalia 2011, Vélez's work will be exhibited alongside work selected by the curatorial collective, and works produced by our local partnering organizer, Concordia University's Center for Ethnographic Research and Exhibition in the aftermath of Violence (CEREV), http://cerev.concordia.ca/.
We seek projects in any medium for inclusion in Ethnographic Terminalia 2011 that take up the theme:  field, studio, lab. These three locations–the field, the studio, the lab–comprise both their own communities of practice, and form sites of inquiry and production for artists and anthropologists. Field, studio, and lab are not only places where knowledge is produced, or ethnographic data gathered, but are spaces of everyday life and local cultural production; they are generative sites of encounter, negotiation, conflict, celebration, failure, disappointment and revelation-all of which can unsettle (or ossify) discursive, disciplinary, and methodological boundaries. (more…)
Posted on: Wednesday, May 25th, 2011