AAA panel: CONFLICTING ACCOUNTS: A ROUNDTABLE DISCUSSION ON VISUAL ETHICS
Chair: Terence Wright, University of Ulster, UK.
This roundtable discussion, organised on behalf of the Society for Visual Anthropology's (SVA) Ethics Committee, seeks to continue the SVA's tradition of nurturing debate and critical reflection on the ethics of anthropological imaging.
The theme of this year's roundtable focuses on visual ethnography in situations of conflict. For the purposes of the discussion 'conflict' may be defined loosely - as an intense rivalry between groups or as open warfare. We aim to investigate the responsibility of photographers, filmmakers, ethnographers to present a 'balanced' representation of the conflict. Is there an obligation to present points of view from both sides? Or does this depend on the nature of the conflict itself? For example, while one might consider it important to give accounts from both Republican and Loyalist perspectives in the Northern Ireland conflict, it may not be considered so important where repression appears quite obvious, as in the struggle for democracy in Burma/Myanmar. In such instances, is it necessary for the ethnographer to state his/her own position with regard to the conflict? Or remain aloof, aiming for a standpoint of 'objective' research and reporting? Or do we rely on the anthropologist to provide the 'alternative voice'? How do we avoid, or come to terms with, imposing our own ethical or cultural values on such situations? We might also consider some of the conflicts that the anthropologist may encounter. What are the dangers of 'embedded ethnography': getting assistance from (or working with) the police, military, NGOs or other interest groups who might be operating to agendas that conflict with those of the ethnographer? Furthermore, do conflicts arise out of the photographic or the filmmaking process itself? The formal qualities of the medium can be used to slant the argument to favour one side over another. What are the dangers of this occurring subconsciously on the part of the ethnographer?
Taken together, the intent of this roundtable is to give practitioners an opportunity to discuss the ethical implications of in-progress or recently-completed visual research, and to draw upon the collective input of roundtable attendees to plan for or rethink our visual responsibilities.
Deadline:
For those interested in participating, please provide a brief description (max. 150 words) of the particular scenario or issue you wish to contribute to this year's discussion as soon as possible, and by 5 April at the latest. Decisions will be made by 10 April, and contributors will need to register for the conference via the AAA's web-based system by 15 April. All correspondence should be sent to Terence Wright: t.wright@ulster.ac.uk.
The roundtable will take the form of a series of brief, 10-minute presentations by participants, culminating in an extended period of group discussion and debate.
Please note: As per AAA participation rules, presenting as part of a roundtable counts as a person's one "major" role, the same as giving a paper or poster.
Posted on: Tuesday, March 12th, 2013


AAA Panel Organizers:
Jerome Crowder, PhD, Asst. Professor, Institute for the Medical Humanities, U. Texas Medical Branch, Galveston, Texas
Erica Fletcher, Graduate Student, Institute for the Medical Humanities, U. Texas Medical Branch, Galveston, Texas
Discussant: TBA
DEADLINE for SUBMISSON: March 12, 2013
Representations of illness and human embodiment are experiencing a profound technological change owing to the rapid advancement of new biotechnologies and vanguard treatment techniques that offer the promise of miracle cures, enhanced anatomies, increased longevity, and a general sense of well?being. Such experiences from the patient's point of view have traditionally been recorded as illness narratives in the form of printed media, as taken from ethnography or autobiography. Yet given the proliferation of the Internet, anyone can post a blog, image, audio or video account of their illness journey and anonymously engage with the world. With the emergence of new media, from websites, online videos, and blogs, to immersive realities, electronic texts, and digital music, illness narratives have become both virtual and transmedial, presenting a curious dual nature that is at once generative and destructive. We argue that while these "transmedial narratives" are generative, in that they may function as a creative means for expressing and sometimes transcending one's health tribulations, they can also simultaneously be destructive, prohibitive and mimetic, in that they can reify stereotypes of illness or engage look?alike sites, which dilute the discourse.
Posted on: Friday, March 1st, 2013


CALL FOR SUBMISSIONS for AAA PANEL ON EXPERIMENTAL ETHNOGRAPHIC FILMMAKING AND PHOTOGRAPHY
Anthropologists as Filmmakers and Photographers: Experimental Trends in Visual Anthropology and Visual Ethnography
Organizer/Chairperson: Andrea Heckman
Camera. Lights. Action. Not an academic sound to our ears? Using cameras for ethnographic field notes and analysis is a methodology utilized by visual anthropologists as long ago as Margaret Mead and Gregory Bateson when they collected large quantities of visual data on Balinese culture and practices. In 1987, the Society for Visual Anthropology was created to encourage the use of photography, films, video, and multi-media as valuable, legitimate methods for fieldwork, not limited as only illustrations for papers. While some anthropologists have not acknowledged visual media as a viable methodological approach, many other ethnographers have recognized the communicative power of visual representation for collecting data, analysis, and accurate presentation of and by those studied.
This panel will present new experimental approaches using film and photography for ethnographic research, analysis, and conclusions including innovations in the formats of the photo essay and documentary film work. The presentations will include global ethnographies improved upon by video clips, digital photography, and social media, and reflexive processual commentary by the researchers. Controversies will be investigated concerning the nature of research questions, interview techniques, cultural intrusion, and the social ethics of creating visual media, and consideration of the final research products, which are then transferred from one culture to inform another. The presentations will be followed by discussion in an interactive format.
If you are interested in participating in this panel for 2013 AAA in Chicago contact Andrea Heckman ASAP and submit a 250-word abstract. Presenters must be AAA members.  Participation will be limited to five presentations.
Posted on: Monday, February 25th, 2013


The 2013 annual Visual Research Conference of the Society for Visual Anthropology will begin with an informal no-host dinner open to all SVA members on Monday evening November 18th followed by interactive presentations on Tuesday November 19th and Wednesday November 20th at the beginning of the 112th American Anthropology Association meetings in Chicago. These presentations are scheduled for about 45 minutes and are formatted to allow for viewing of visual material, as well as several question and answer periods during each presentation, thus facilitating much lively discussion. Each year this conference provides visual anthropologists a unique opportunity to meet and interact with others who do anthropological and anthropologically related research on visual signification, visual communication, and visual forms of representation. We invite all SVA members, from graduate students to retired professors, to submit proposals and attend the conference.
THE 2013 DEADLINE FOR VISUAL RESEARCH CONFERENCE SUBMISSIONS IS MIDNIGHT MARCH 31, 2013, GUAM TIME.
Posted on: Wednesday, February 13th, 2013


CALL FOR SUBMISSIONS
2013 John Collier Jr. Award for Still Photography
The John Collier Jr. Award for Still Photography is awarded periodically to an author or photographer whose publication, exhibit, website, or other multimedia production exemplifies the use of still photographs (both historical and contemporary) for research and communication of anthropological knowledge.  The submission must have a strong visual research perspective along with being good documentary photography and be within five years of the original publication date. The project must be nominated by a current SVA member and include the consent of the person nominated. A letter of nomination from the SVA member and the supporting material (including name, book title or exhibit, website or multimedia production, publisher, author's mailing address, phone and email) should accompany three copies of the creative work and be sent to the Committee Chairperson, which must be received by the deadline below. The same work may be submitted a maximum of two times. The SVA board appointed committee of three then reviews the submitted works to decide on its merits.  Winners are announced during the SVA/AAA meetings and presented with a John Collier Jr. or Mary Collier print, courtesy of the Collier Family Collection, and a certificate of recognition.
Submissions for 2013 should be mailed to: The Collier Committee c/o Andrea Heckman, Chairperson, P. O. Box 714, Taos Ski Valley, NM 87525.
Deadlines for Submission and Award Notification:
March 15 Deadline for receipt of nomination materials and submission to SVA.
July 31 Committee decision will be submitted to SVA President and Secretary
August 10 Award information submitted to AAA program committee
The Collier Award is sponsored by the SVA Board of Directors in honor of the life and work of John Collier Jr. (1913-1992). Although suffering hearing loss and cognitive impairments early in life John Collier's visual genius was enhanced by his early association with the well-known painter, Maynard Dixon and his wife Dorothea Lange. Other important influences were the artist Nicolai Fechin, the photographer Paul Strand, and the elders and compatriots in the American Indian communities of his youth. He worked as photographer for Roy E. Stryker in the FSA (Farm Security Administration) and the OWI (Office of War Information) during the early 1940s, with later professional photographic work in the Canadian Arctic, South American, and the United States.
His first formal visual anthropological work (1946) was in Otavalo, Ecuador with the Ecuadorian anthropologist Aníbal Buitrón. This was followed with work in Nova Scotia and the American Southwest with Alexander Leighton, and a major visual ethnography (1954-55) of Vicos, Peru, with Mary E.T. Collier. Subsequent work in New Mexico, Alaska, Arizona, and California included close attention to issues of cross cultural education and schooling. In 1967, he authored the acclaimed book, Visual Anthropology: Photography as a Research Method (Holt, Rinehart and Winston, second edition with Malcolm Collier (University of New Mexico Press, 1986). Collier was a founding member of both the Society for Visual Anthropology (SVA) and the Council on Anthropology and Education (CAE) and a long time supporter of SVA.
Past winners
2003 The Ones Who Are Wanted: the Politics of Representation in a Photographic Exhibition by Corinne Kratz.  Berkeley: University of California Press, 2002.
2003 Changing Works: Visions of a Lost Agriculture by Douglas Harper. Chicago: University of Chicago Press, 2001.
2006 Woven Stories: Andean Textiles and Rituals by Andrea Heckman. Albuquerque: University of New Mexico Press, 2003.
2008 A Danish Photographer of Idaho Images: Benedicte Wrensted by Joanna Cohan Scherer.  Norman: University of Oklahoma Press, 2006.
2012 Moving Images: John Layard, fieldwork and photography on Malakula since 1914 by Haidy Geismar and Anita Herle (2010: University of Hawaii Press).
2012 HONORABLE MENTION: Arapaho Journeys: Photographs and Stories from The Wind River Reservation by Sara Wiles (2011: University of Oklahoma Press)
Posted on: Tuesday, February 5th, 2013


CFP: Visuality in Multi-Modal Semiotic Ecologies: Theory and Method at the Intersection of Linguistic and Visual Anthropology
Few (if any) linguistic anthropologists would argue with the idea that linguistic practice draws on diverse material and embodied resources. Nevertheless, close attention to the role of visual semiosis in communicative ecologies is not as common a part of our analyses as might be expected. Indeed, as Lempert points out in a forthcoming review, outside a few notable exceptions (e.g., Enfield 2009; Goodwin 2003; Goodwin and Tulbert 2011) explicit and sustained attention to multimodal integration remains a frontier for our field. The reason for this "benign" neglect may be less to do with our theoretical orientations than with methodological challenges (described and grappled with by, for example, Tedlock 1983 and Farnell 1995) of satisfactorily representing multi-modal semiosis in print (though, as Ochs (1979) reminds us, theory and methodology are in a bi-directional relationship).  However, for visual anthropologists, from Bateson and Mead's (1942) seminal photographic work in Bali to Strassler's (2010) recent award winning text, the multimodality of semiosis is generally framed as presenting methodological and representational opportunities rather than problems. This panel seeks to bring together perspectives from linguistic and visual anthropology to ask what methodological issues are involved in addressing visual modalities as part of multi-modal semiotic processes. What kinds of tools are necessary to account for the multiple ways in which visual forms interact with other linguistic modalities?  What does a linguistic-ethnographic approach add to visual analyses?
Description of specific papers.
Together we argue that (emergent from selected papers)
Panelists are encouraged to incorporate visual components into their presentations in ways consistent with the methodological and theoretical claims of their papers.
Please submit abstracts by March 1 to erhoffma@oberlin.edu
Posted on: Friday, February 1st, 2013


The International Union of Anthropological and Ethnological Sciences: Evolving Humanity, Emerging Worlds
Open call for papers and submissions: IUAES 2013 Congress (5-10 August 2013, University of Manchester, UK)
Visual Anthropology: 'Photography Exhibition'
The exhibition:
We are looking for artists/researchers to submit their work for an exhibition to be held during the IUAES Congress as part and extension of the visual anthropology panels and workshops.
At this stage all visual works to be submitted as low resolution files via email to the exhibition curator plus a 250-word statement explaining the visual material submitted. A copy of your abstract to be forwarded via the congress link: please clarify if you wish to be included either as a paper for the photography panel below and/or your images for the exhibition. There are several visual panels running through the congress and you can submit your paper to any of them if you feel your work is better suited in other panels.
Exhibition curator: Marcel Reyes-Cortez, marcel@reyes-cortez.com
Visual Anthropology Panel: 'Photography as a research method'
Panel abstract:
This panel will consider and discuss the practice and use of photography as a social research method. Photography as an art form in collaboration with the social sciences, fused as a hybrid practice; a methodology to both explore and to engage with the phenomena of the everyday and the social world. In current academic research photography and the use of photographs have opened the possibility for a detailed level of engagement with the spaces, places and people researchers visit and encounter. Through this panel we aim to explore how the ubiquitous photograph becomes a knowledge making practice. Photography with it's sensorial and performative qualities opens interaction, creates and cultivates relationships with people. Photography as a methodology has been found to stimulate and incite the emotions that bind people together. The panel will look at how the practice of photography and use of photographs can open spaces and encounters of collaboration, speed the entry into the field, assisting the researcher, our participants and viewer a closer and emotive field experience. The collaboration between social research and art practice, between the image and the text provides a space to voice the opinion, feelings and emotions of people, giving greater sensitivity and richness to an ethnography but also for knowledge dissemination and analyses. We invite papers that attempt to engage with photography beyond the observational, illustrative or as a source or a form of representation.
Convenor: Marcel Reyes-Cortez
The deadline for the submission: 13 July 2012.
Paper proposals and abstracts to be submitted online via the link on the panel page.
http://www.nomadit.co.uk/iuaes/iuaes2013/panels.php5?PanelID=1694
Posted on: Wednesday, June 27th, 2012


We seek submissions for Artless Photographs, an exhibition to be held during October 2012 in Cincinnati as part of the Fotofocus Biennial (http://www.fotofocuscincinnati.org/).
Artless Photographs examines documentary photographs taken in a range of institutional contexts that record exacting details about individual bodies and identities while also generating diagnostic and predictive typologies. Taking the viewer from events as distinct as model castings in New York's fashion industry to exhumations in post-conflict Spain, the show compels viewers to think critically about the power and utter mundanity of photography and the practices that produce them. Arguing that these seemingly "artless photographs" are anything but straight-forward representations, the exhibition explores how the standardization and routinization of these images' production simultaneously de-emphasizes the role of the photographer while also elevating the expertise required to interpret and read the small details and auratic potential of these images. Exhibiting these collections alongside audio, visual, and textual documentation of the processes of their production, the show will juxtapose what appears to be the placelessness of these images with their embedded institutional ecologies to explore the multiple temporalities and mediations of identity.
We are looking for research-based submissions of both "artless photographs" and documentation of their production processes.  This may include ethnographic vignettes, audio or video recordings, and/or photographs.
We are particularly interested in medical and scientific imaging (CT scans, MRI, histology, x-rays, forensic photography), government and institutional identification imaging (driver's licenses, passport photos, criminal booking photographs, biometric measurements), and commercial and media images (stock photography, photojournalism), but are open to submissions beyond these areas, as well.
The deadline for submissions is July 15, 2012.
Each submission should include a pdf cover sheet with the following information:
1)     The author/artist/anthropologist's name, institutional affiliation, and contact information;
2)     A brief 250-word statement explaining the collected materials and their relationship to the show;
3)     An annotated list of submission materials (photographs, audio files, vignettes, video, etc.) including file names and sizes and whether the submission is exhaustive or representative of a larger body of work;
4)     A statement affirming that the author/artist/anthropologist has the right to exhibit the included work.
All video footage, audio recordings, photographic images, and ethnographic vignettes should be submitted as files or links (dropbox) with this cover sheet via email to artless.fotofocus@gmail.com. If your materials do not fit into a single email, please send them via dropbox and include the corresponding link to the public file.  Please note that at this initial stage of the process, we do not need high-resolution images. 
Please contact the show curators, Stephanie Sadre-Orafai, sadreose@ucmail.uc.edu, or Lee Douglas, lee.douglas@nyu.edu, with questions or for more information.
Posted on: Tuesday, June 12th, 2012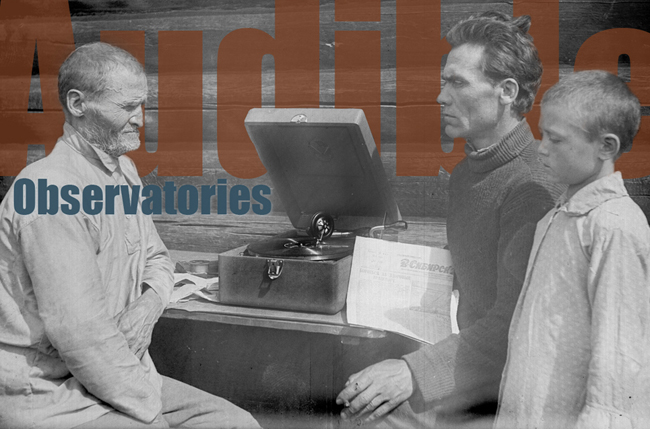 Ethnographic Terminalia seeks submissions for Audible Observatories, an exhibition to be held in San Francisco in November 2012. Artist-researchers, collaborators, anthropologists and other artistically inclined scholars are encouraged to submit their proposals prior to July 15, 2012.
Audible Observatories makes a playful connection between research-based art and place-bound exhibition in order to animate a curatorial vision that foregrounds audio-centric works within a broader rubric of site-specificity. We conceptualize the audible observatory as either a mobile or a stationary site of perception that is sensible to others just as it is a place from which sensing the world happens. Audible observatories are points of sensory convergence. They are nodes where worlds perceived through the senses intersect and begin the labour of transforming independent events into knowable and meaningful claims. They speak and they are spoken to.
Audible Observatories will be a distributed public event in San Francisco with an amalgam of location specific points and zones of exhibition. We are looking for research-based audio focused works to exhibit. These might include digital media, image, and sound files, websites and other interactive media, video works where audio figures prominently. Sculptural and other works will also be considered. In some cases we may be able to support installation. As in past shows, we will work with our exhibitors (if necessary) to develop installations and short statements about their work which point to larger interpretive frameworks.
This project ties in with and is supported by the meetings of the American Anthropological Association and the Society for Visual Anthropology. A round table discussion featuring Steve Feld, John Wynne, Angus Carlyle, and Rupert Cox has been organized and will be taking place during the course of this event. We also expect to be exhibiting work by these artists.
Ethnographic Terminalia is an initiative designed to celebrate borders without necessarily exalting them. Now in its fourth year of exhibition, it is meant to be a playful engagement with reflexivity and positionality; it seeks to ask what lies beyond and what lies within disciplinary territories. Ethnographic Terminalia is an exploration of what means to exhibit anthropology - particularly in some of its less traditional forms - in proximity to and conversation with contemporary art practices.
Go to the Call for Submissions Form
The terminus is the end, the boundary, and the border.
It is also a beginning, its own place, a site of experience and encounter.
Contact: ethnographicterminalia@gmail.com
http://www.ethnographicterminalia.org

Posted on: Thursday, June 7th, 2012


Urban photography summer school 2012
goldsmiths, university of london
Designed for photographers, artists and urbanists whose work addresses notions of urban space and culture the international Summer School provides a highly intensive two week practical and theoretical training in key aspects of urban visual practice. The course aims to offer participants a wide range of relevant skills resulting in the production of a photography portfolio drawn from London's urban environments combined with a collective final exhibition.
The programme has been developed in collaboration with Urban Encounters and the Centre for Urban and Community Research (CUCR). The course will be taught by tutors from Goldsmith's Sociology Department and the international MA in Photography and Urban Cultures. The programme draws on the advanced theoretical, research and practical image-making specialisms of key practitioners in the field. Summer School tutors include: Paul Halliday (MA in Photography and Urban Cultures Convener), Beatriz Véliz Argueta (Coordinator/Goldsmiths), Les Back (Goldsmiths), Caroline Knowles (CUCR Director), Mandy Lee Jandrell (Goldsmiths), Peter Coles (Oxford/ Goldsmiths), Alex Rhys-Taylor (Goldsmiths), Manuel Vazquez (Goldsmiths), Michael Wayne Plant (Goldsmiths), Laura Cuch (Goldsmiths) and Jasmine Cheng (Goldsmiths).
The programme will explore how the practice of urban image making informs the development of a reflexive and critical research perspective and will include assignments and guided fieldtrips focusing on (1) urban landscape, (2) street photography and (3) material objects.
Application deadline: June 3rd, 2011
For more information: www.gold.ac.uk/cucr/summer%20school/
Posted on: Tuesday, April 10th, 2012